La Fera Ferotge
Arranger & conductor
Ovidi Montllor was one of the catalan song-writers more active against the Franco dictatorship and during the early democratic period (80's). For the project "La Fera Ferotge" I wanted to have a new look of his songs, with a unusual ensemble: saxophone quartet, percussions and voices, without rhythm section.
Members:
Voices: Àlex Vendrell, Esther Schoenmakers & Ramon Balasch; Saxes: Xavi López, Roger Martínez, Sergi Raya & David Miret; flute: Andrés Belmonte; Drums & percussion: Isidre Ruiz & Martín "Maluco" Peralta. Sound engineer: David Casamitjana & Jaume Nin. Original idea & production: Eni Molero. Arranged & conducted by Esteve Molero.
"L'escola de Ribera" (O. Montllor. Arr. E. Molero)

"Bon vent i barca nova" (O. Montllor. Arr. E. Molero)
"M'aclame a tu"  (O. Montllor. Arr. E. Molero)
Article published in Serra d'or magazine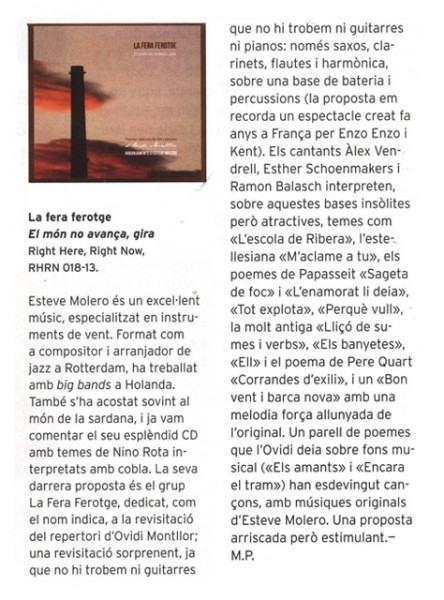 Pictures from "El món no avança, gira" CD recording.