Catalonia & Cuba
CATALONIA & CUBA

A musical relationship through the wine route and the "Indianos" migration.

DID YOU KNOW...

- Danzón, the national dance of Cuba, is related to the catalan rhythm of "xotis"?

- Xavier Cugat was trained musically La in Habana, Cuba?

- Cuban percussion player Miguel "Angá" Díaz, top 5 in the world, lived and died in Sant Sadurní d'Anoia?

- The song "El meu avi" is a plagiarism of the song "My heart belongs to daddy" by Cole Porter?

- the first artistic name of the Catalan boler singer Moncho was "the Cuban cyclone"?

- There is a sardana, written in Castelló d'Empúries at the beginning of the 20th century, called "The War of Cuba"?

- Many famous Cuban musicians have Catalan surnames: Antonio Maria Romeu, Mario Bauzà, Ibrahim Ferrer, Jesús Alemany?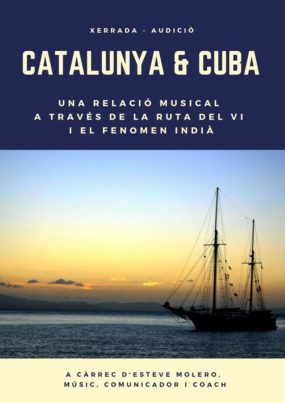 A TALK WITH MUSIC PLAYED 

This talk is based on the CD "Back-to-back Music" from Latin jazz band Esteve Molero & Vela Latina

The explanations, from the history of the "Indianos in Cuba" to the vicissitudes of the wine route, and also the origin of the famous bolero of Ravel, are illustrated

with musical auditions.

The particularity of these auditions is that the sounding music has been written, conducted and performed by the speaker himself.

An immersion in Antillean music, in the two ways rhythms, by a expert in the topic.