Nuevas entrevistas!
Catalan mass media are interested in Molero's latest projects.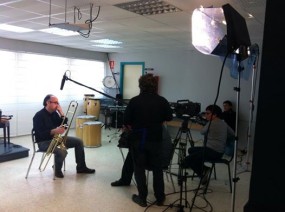 "La Nit dels Ignorants" is one of the oldest and more important programs in Catalunya Ràdio (leader radio station in Catalonia). The journalist Xavier Solà talks with Esteve Molero about Cia. Catalana de Latin Jazz and CD "Pangá".
(minute 16'15")
La Sonora is a television program about tradicional musics and danses, in Televisió de Catalunya (leader TV station in Catalonia). Many times the program was interested in Molero's projects. Once again, they make a program about  "Silenci blanc, jazzy moods for tenora", from Jordi Guixé Sextet, arranged and conducted by Esteve Molero.
(minute 15'18")